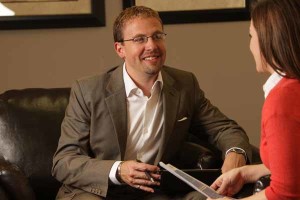 Our consultants are often mistaken as employees of the organizations we work with. We like to think that we become a part of the team. Our consultants are business people, with a wide variety of experience, education and background, each bringing a unique and complimentary perspective to help our clients grow.
Click on a name below to learn more about each of our expert consultants:
Zack Clark – Managing Director / Executive Consultant

Zack Clark brings a unique blend of creativity and structure to the Five Degrees consulting team. His energy and

enthusiasm, combined with extensive experience in the business world and an entrepreneurial spirit, make him an invaluable partner to both our company and our clients. He appears to have a direct link from thought to action in his brain, and even though he can put together a spreadsheet faster than a speeding bullet, his attention to detail never overshadows his flexibility and focus on what is most important.

Zack specializes in working with individuals, teams and companies in areas of leadership, culture, team development, marketing, branding, operations management, finance, and sales. His easygoing style and sense of humor show up in his quick connections with clients; his warmth, consistency, and genuine caring about each of the individuals he works with are a demonstration of his commitment to their success.

Before beginning his consulting career, Zack spent more than 13 years working in corporate management and executive positions, where he gained extensive experience in strategic planning, business management, finance, team development, sales, and marketing. He has led multi-disciplined teams of over 500 individuals and managed operating budgets in excess of $100 million. Always working as a change agent and an innovator, Zack successfully launched new product and service lines for several national corporations.

While he has worked with and for organizations large and small, Zack is an entrepreneur at heart. In addition to co-founding Five Degrees Consulting, Zack successfully developed, patented, and launched an innovative media that has created a captivating advertising location within some of the largest airports in the world.

Zack lives, works, and plays in Salt Lake City—the perfect locale for an avid skier. But you can also find him scuba diving, surfing, sailing, and playing in or around the ocean at every opportunity. He loves spending time with his wife and two kids, and is passionate about food, cooking, wine, and travel, and having great friends, family, and colleagues to enjoy

it all with.

Merrilee Buchanan – Executive Consultant

Merrilee Buchanan brings more than 20 years of experience developing people to the Five Degrees Consulting team. A big-picture thinker, Merrilee is passionate about leadership, strategy, and challenging the seemingly impossible. She loves working with individuals and teams to define their visions and values to develop their lives and workplace cultures "by design," uncovering their strengths and setting in motion the shifts in thinking and behavior to make real and lasting change. Her warmth, authenticity and gentle humor put others at ease, helping them connect to their own passions and goals, and find the motivation, energy and pace for their change trajectory.

Merrilee's experience includes work with companies large and small, from a diverse cross section of industries, including IT, sales, marketing, media, transportation, consumer packaged goods, arts and entertainment, finance, government, engineering, and health care. Her specialty is executive coaching and leadership development, and she particularly loves working with high potential women to expand their leadership capabilities through her work at Chocolate Villa. She is most interested in developing others to see their potential and seek their "next."

Her dual-track career in behavioral health management and organizational development gives her the advantage of applying the basics of behavioral change at both the individual and organizational levels. With a BS in Communication and a Masters in Social Work, Merrilee has also worked as faculty for McKinsey Consulting and as a senior consultant for the Larcen Consulting Group.

Merrilee lives in Park City, Utah, and loves spending time in the outdoors hiking, bicycling, fly-fishing, motorcycling and skiing. She is interested in adventure in all forms, loves to travel, write, learn new things, or just hang out with her grown children, grandchildren, and good friends. Merrilee lives to expand joy, creativity, playfulness, purpose, and connection in her life, work, and relationships.

Kathleen Kelly – Senior Consultant

Kathy Kelly brings to Five Degrees Consulting her twenty-some years of leadership and management experience combined with ten years of working with clients to improve their leadership, communication and team skills.  Her energy, optimism and empathy combine with a nearly psychic ability to get to core issues and develop practical solutions with clients.

Kathy's experience in operations management was in a variety of industries, including health care, academia, and local government.  She was passionate about being a leader who created close, mentoring connections with her staff, as well as high performance teams. As a consultant, she helps impart these skills to all levels of leadership from new supervisors to seasoned executives.

Kathy's seminar facilitation style and content design brings rave reviews from participants. Her down-to-earth style creates a learning environment that makes the complex simple.  She also enjoys one on one coaching and is a certified Birkman Method coach.

To spice up her life, Kathy has been an instructor at the University of Utah and has served as a lead faculty member of the College of Business at the University of Phoenix.

Preferring the outdoors to the indoors, Kathy is a facilitator for outdoor experiential team building adventures and retreats.  She has a Utah White Water River Guide permit and rows for Splore, an organization that takes disabled people on outdoor adventures.

Kathy's educational background includes an M.B.A. from the University of Utah, a B.S. in Rehabilitation Services from the University of Connecticut, and parenting a son.

Stormy Sweitzer – Senior Consultant

Stormy Sweitzer brings over 15 years of hands-on project and program leadership, training and educational program development, and consulting with executive and operational teams to Five Degrees Consulting. An idea-to-impact oriented person, Stormy walks the line between creative idealist, strategic thinker, and pragmatic implementer, allowing her to understand and connect with individuals from across the organizational spectrum.

.

Stormy's experience includes working with national and international health care, not-for-profit, academic and government organizations. Recognized as a builder of new programs and organizations, she specializes in translating strategic intent into operational frameworks and developing the talent and orchestrating the systems and resources needed to make ideas happen.  She particularly enjoys working with individuals to help them realize their leadership potential.

Entrepreneurial by nature, Stormy also works with social entrepreneurs from a cross-section of industries and geographies and as an entrepreneur in her own right. Her diverse interests have enabled her to start businesses in the technology, education, and food sectors. When not consulting, Stormy spends her time writing and nurturing her latest venture.

Her background in public health, business operations, and non-profit organizational development, as well as her entrepreneurial and social impact tendencies give her a unique perspective on the world and the role that organizations can play in helping individuals achieve their full potential. Stormy holds a BS in economics, a BA in Russian language and Literature, and Masters degrees in Public Health and Business Administration.

Stormy lives with her husband in Salt Lake City, Utah, and loves running, hiking, learning, and eating and writing about good food. Having inherited the travel bug from her grandmother, Stormy has lived for extended periods in Russia, Venezuela, Finland and Moldova, and traveled to over 35 other countries.

Gary Klein – Program Facilitator

Gary might best be described as a "master of metaphors"—he makes the complex seem simple through storytelling and humor, and his ability to teach anything from sales effectiveness to change management to African djembe drumming gives him an edge in coaching individuals or leading groups.

As a licensed psychotherapist, Gary comes with a wealth of knowledge and a deep understanding of psychology, human behavior, change, and motivation. His previous years of experience in sales and sales training combine to give him a back pocket filled with tools and techniques that make change and overcoming obstacles seem easy. As a professional drumming instructor, Gary's teaching methods make even beginners feel comfortable joining a team-building drum circle. He helps individuals and groups "find their own rhythms" and discover the downbeat that helps them work more effectively together.

Gary has a BS in Psychology from The University of Utah, and an MSW from The University of California, San Bernadino. He currently lives in Salt Lake City, Utah, and spends much of his spare time riding his motorcycle, playing and teaching drumming, Googling random topics to feed his insatiable thirst for knowledge, or traveling to new places seeking nature and adventure.

Julie Finnegan – Program Facilitator

"She is the most creative person I know." If you heard this statement in passing, you might quickly guess we were speaking about Julie Finnegan. With an eye for aesthetics and a natural passion for growth, Julie "sees" beauty and possibility in every person and situation she encounters. A key player in Five Degrees Consulting, Julie artfully combines her background in teaching, cheffing, graphic design and team facilitation to bring freshness, creativity and candor to the team.

Linda Gaddie – Program Facilitator

With more than 20 years of experience in organizational development consulting and executive leadership, Linda mixes her keen business acumen and strategic thinking with a wholehearted passion for people. She connects easily with others, and her sweet Southern accent is warm and engaging. Linda believes that people are precious, and honors each person's individuality and unique contributions in her work as a coach and facilitator.

Kerry Owen – Program Facilitator

Kerry is the very definition of liveliness and creativity in her facilitation work. An entrepreneur at heart, she started her own marketing consulting business at the onset of the 2008 economic crash, while juggling a family with young children at home. She hasn't looked back and her success grows exponentially. As an experienced facilitator, Kerry brings courage, candor, energy and inspiration to Five Degrees Consulting.